Located near the Banks of Sabarmati river, Narendra Modi Stadium is the Largest Cricket Stadium in the world. The stadium was constructed in 1982 to flourish cricket talents in the province. Earlier, the stadium had a seating capacity of housing 49,000 cricket fans.
In October 2015, Gujarat Cricket Association under the visionary leadership of the then GCA President and current Prime Minister Shri Narendra Modi decided to reconstruct the stadium and make it the largest Cricket Stadium in the world. In February 2020, the redevelopment task was completed and it is now capable of accommodating more than 1.3 lakh cricket fans. The new Narendra Modi Stadium broke the record by surpassing Melbourne Cricket Ground which has the capacity to accommodate 90,000 spectators.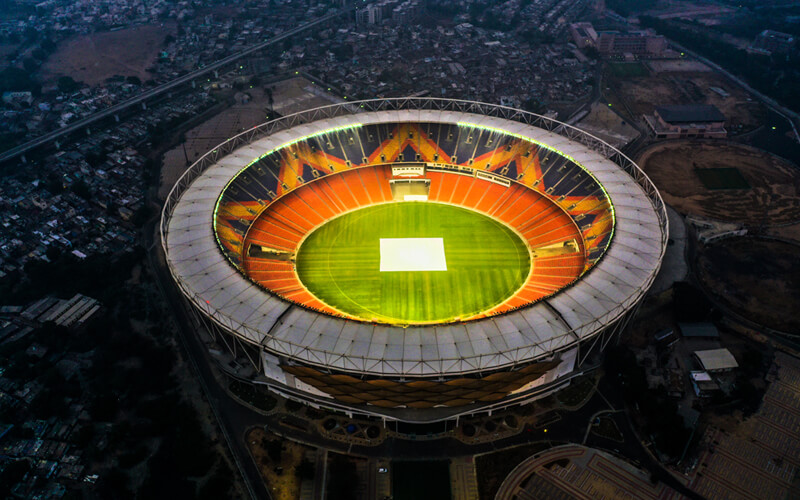 unique features of
Narendra Modi Stadium
Specifications of World's Largest Cricket Stadium
01

Spread across
63 acres and has
4 entry points
02

The Field Size
of the stadium is
180 yards x 150 yards
03

4 team
dressing rooms with
associated facilities
04

6 indoor
practice pitches and
3 outdoor practice fields
05

An indoor cricket
academy with a
dormitory for 40 athletes
06

Seating capacity
of 25 each in
76 corporate boxes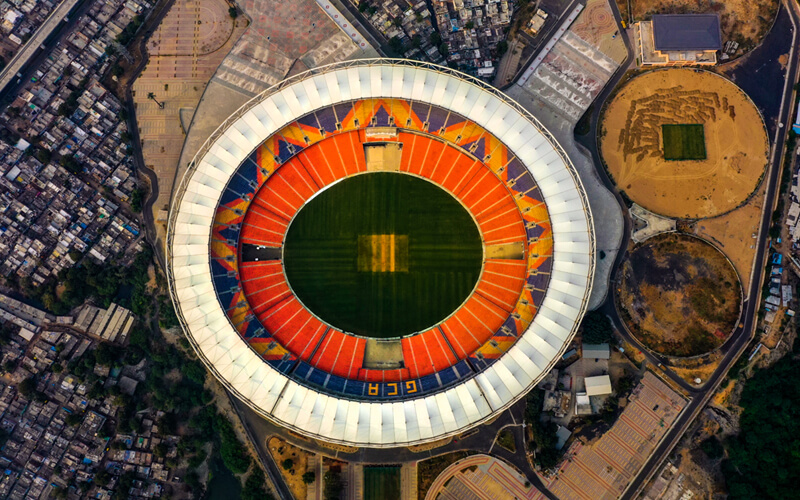 Narendra Modi Stadium in History of Cricket
In 1986-87 against Pakistan, Sunil Gavaskar completed 10,000 runs in Test cricket and became the highest run-scorer in test cricket.
In February 1994, Kapil Dev scalped his 432nd wicket in test cricket and surpassed Sir Richard Hadlee's record. Thus, becoming the highest wicket-taker in test cricket.
On 8th Feb 1994, Sagi Lakshmi Venkatapathy Raju gave an outstanding bowling performance by taking 11 wickets against Sri Lanka.
In 2008, AB de Villiers scored double-ton against India during the second test of South Africa's tour to India.
In 2011 ICC World Cup, Team India defeated Australia in the quarterfinals and marked a huge win at the Narendra Modi Stadium.
In a 2013, Sachin Tendulkar became the first batsman to score 30,000 runs in international cricket at the Narendra Modi Stadium.
On 24th February 2020, the Narendra Modi Stadium hosted "Namaste Trump", the inaugural visit of US President Mr. Donald Trump.