Associated Districts
Soul of Gujarat Cricket Association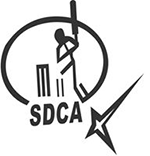 History
The Southern Gujarat Surat DIstrict Association (SDCA) was formed in 1933. The association didn't have its own ground. Earlier, cricket matches were played on Police Headquarters ground and later on MTB Collage, K.P. College and Baroda Rayon ground. '
Due to the changes in the Constitution in 1987, SDCA's activities were restricted to Surat city and Surat district.
Today, SDCA is having its own ground with stadium on a land having an area of about 1,10,000 sq. yard; This was made possible only because of donation of 86,730 sq. yards of land, donated in 1986-87 by Shri Kanaiyabhai and Shri Hemantbhai together with their sister Smt. Jyotiben, in memory of their father, Late.Shri Lalbhai Ramjibhai Contractor who was himself enthusiast of game of Cricket and founder member of Bombay Cricket Association. Other donors extended their support by donating 17,000 sq. Yard area of land. Today the market value of association's land alone is to the tune ofaround Rs.500 crores.
It's pertinent to mention here that due to expansion of Surat city limits in 2006 , SDCA is now the part of Surat City.
Existing facilities
SDCA, presently, offers a cricket stadium with a seating capacity for 12,000 spectators in addition, it in houses following recreational and sports amenities.
Lalbhai Contractor Stadium is equipped with eight practice pitches and five main playing pitches covered with barricade, main pavilion with capacity of 12000 spectators along with inbuilt facilities of comment at or room, air-conditioned cabins, umpire room, press gallery, separate dressing g rooms for both team players and a doctors' room for primary medical treatment and other temporary stands which can easily accommodate 40000 spectators. The stadium is successfully ended avored to be equipped with modern facilities to host international or equivalent class of matches. The complex is also well equipped with tennis court, Olympic size swimming pool, indoor games facilities, cafeteria and well equipped gymnasium. We are proud of creating these facilities without any financial support. Thus, we are equipped with all elementary facilities to handle international matches. We are well aware of our responsibilities to facilities and coach young cricketers and to achieve this goal, we are running Permanent Cricket Academy round the year which is closely supervised by Ex.Ranji cricketers of Surat region and qualified coaches.
Surat is a metropolitan city and financial capital of Gujarat due to textile and diamond industries. The city is now Mega city of 50 million population with elementary infrastructure needed for international or equivalent class of matches like, transport facility by Air, Road and railway from any part of India and also prospered by existence of hotels of international of equivalent class. Surat city is now declared twin city with Navsari and major corporate like Essar, Reliance, L&T, ONGC, Kribhco and SHELL etc. have strengthen the economy of Surat city. Smooth income naturally felicitates the expenditure of common man, which in terms would be helpful to get more and more spectators.
Voter Name
Shri K L Contractor
Shri S A Raval
Shri Naimeshbhai Desai
Shri Sanjaybhai Patel
Other Members Name
Shri Narharibhai Amin, Co. Op. Member
Shri Maheshbhai Pithawala, Hon. Member
Shri Chandravadanbhai Pithawala, Hon. Member
Shri Ajitbhai Pithawala, Hon. Member